Color me Yellow & Rose Pink
I'm definetly in the Rose Pink & Yellow phase in my life & I just can't get enough of this color.
These colors work so well together & since it's summer there shouldn't be an excuse on not wearing them!
Left: Alice + Olivia & Right: Ark & Co 
I know a lot of people do not wear pants in the summer & choose to wear skirts or shorts so why not wear them with taste?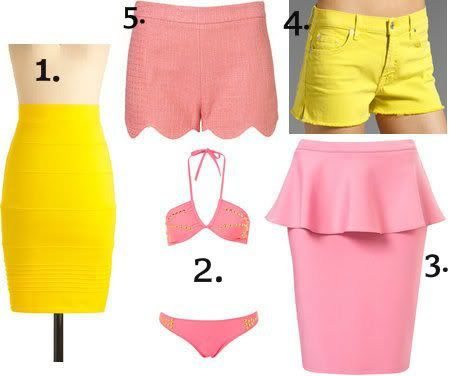 1. Mod Cloth, 2. TopShop 3. TopShop & 4. 7 for All ManKind
Accessories always brighten up my life.
1.Chelsey, 2. A.V. Max, 3. Alice + Olivia, 4. Oakley(yes, these sunglasses are made by Oakley so go ahead & be shocked) & 5. Adia Kibur.
I hope you all had a wonderful weekend. I spent the weekend celebrating my brother's 31st birthday & it was perfect. - TT